Park Policies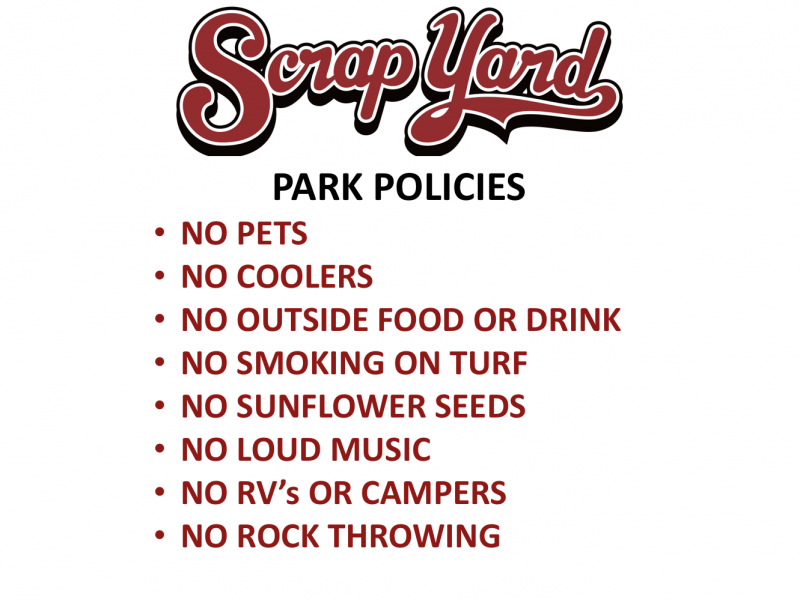 Lost and found form on a mobile device (click here)
For questions relating to Park Policies during events, please text us at
281-547-0900.
Scrap Yard Sports prides ourselves on providing a top of the line experience beginning with the playing surfaces, to the high quality food, to the bathrooms. Scrap Yard Sports appreciates all of our visitors and guests and we invite you to help us maintain The Scrap Yard Sports experience. The best way to keep Scrap Yard Sports fun for everyone is if we can all help maintain the following park policies.
---
| | | |
| --- | --- | --- |
| | | Coming in from out of town? Need somewhere to Stay? We have partnered with several hotels in the area to bring you a special Scrap Yard Sports rate! |
| | | Need help finding the Scrap Yard Sports Complex? |
---
SCRAP YARD SPORTS IS A PRIVATELY OWNED FACILITY AND RESERVES THE RIGHT TO REFUSE SERVICE TO ANYONE. ANY VANDALISM OR TRESSPASSING ON NEIGHBORING HOUSES OR PROPERTIES ADJACENT TO THE SCRAP YARD SPORTS COMPLEX IS GROUNDS FOR IMMEDIATE REMOVAL AND BANNING FROM THE FACILITY. THIS APPLIES TO THE PERSON CAUGHT AND THEIR CORRESPONDING TEAM BEING BANNED FROM ALL FUTURE EVENTS AT SCRAP YARD SPORTS. VANDALISM AND TRESSPASSING INCLUDES BUT IS NOT LIMITED TO ENTERING PRIVATE PROPERTY NOT OWNED AND OPERATED BY SCRAP YARD SPORTS AND INCLUDES BREAKING, REMOVING, OR DAMAGING FENCE PANELS TO NEIGHBORING HOMES OR BUSINESSES ADJACENT TO SCRAP YARD SPORTS. ANY ROCK THROWING WILL ALSO BE GROUNDS FOR IMMEDIATE REMOVAL AND PERMANENT BANNING FROM ALL SCRAP YARD SPORTS EVENTS.
---
COOLER POLICY

Coolers that can hold bottles, cans, or food are prohibited. However, individual drinking coolers like the one shown below in the green square are permited for PLAYERS ONLY.
Any prohibited coolers brought on property must stay in your vehicle. Any persons seen on the property with a cooler will be asked to return it to their vehicle. Any person who refuses to do so will be asked to leave the property immediately.
Scrap Yard Sports has started allowing team coolers. Each team must register their cooler at the Coach Check in (Copper Gate) and the cooler must be appropriately tagged. The cooler is only permitted to have water and ice and must be checked by event staff.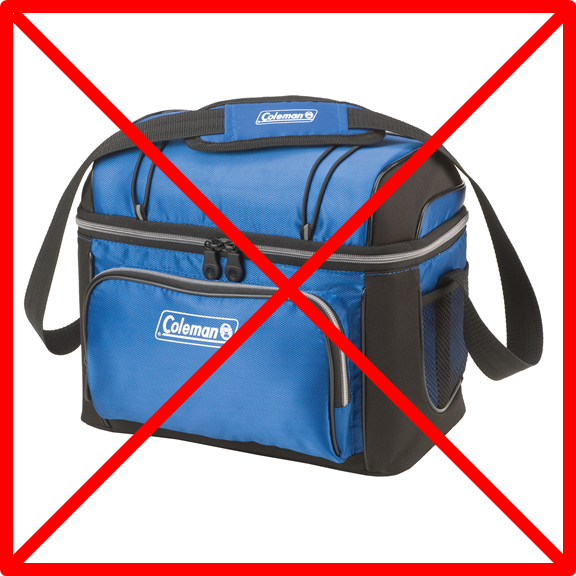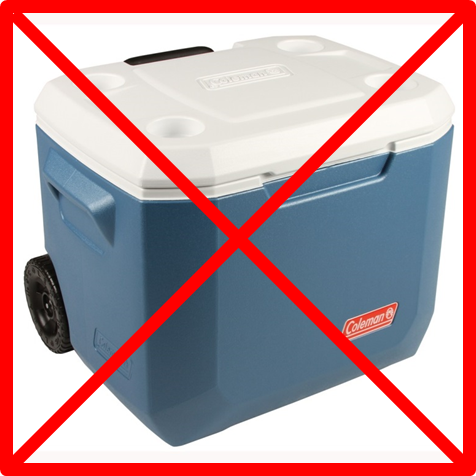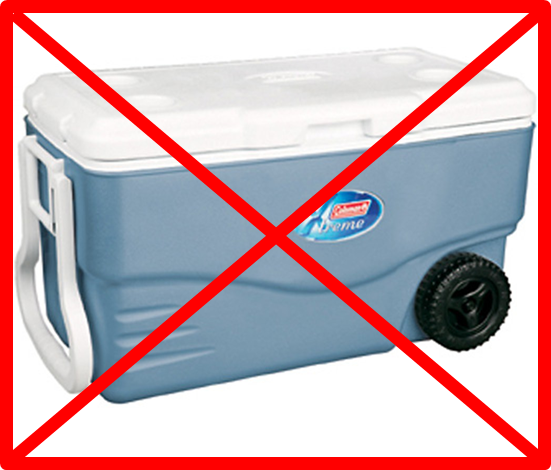 ---
OUTSIDE FOOD AND DRINK POLICY

Scrap Yard Sports strives to bring you the best concession experience possible, so we ask that you not bring any outside food or drink onto the property. The possession of outside food, drink, or coolers will be grounds for removal from the facility.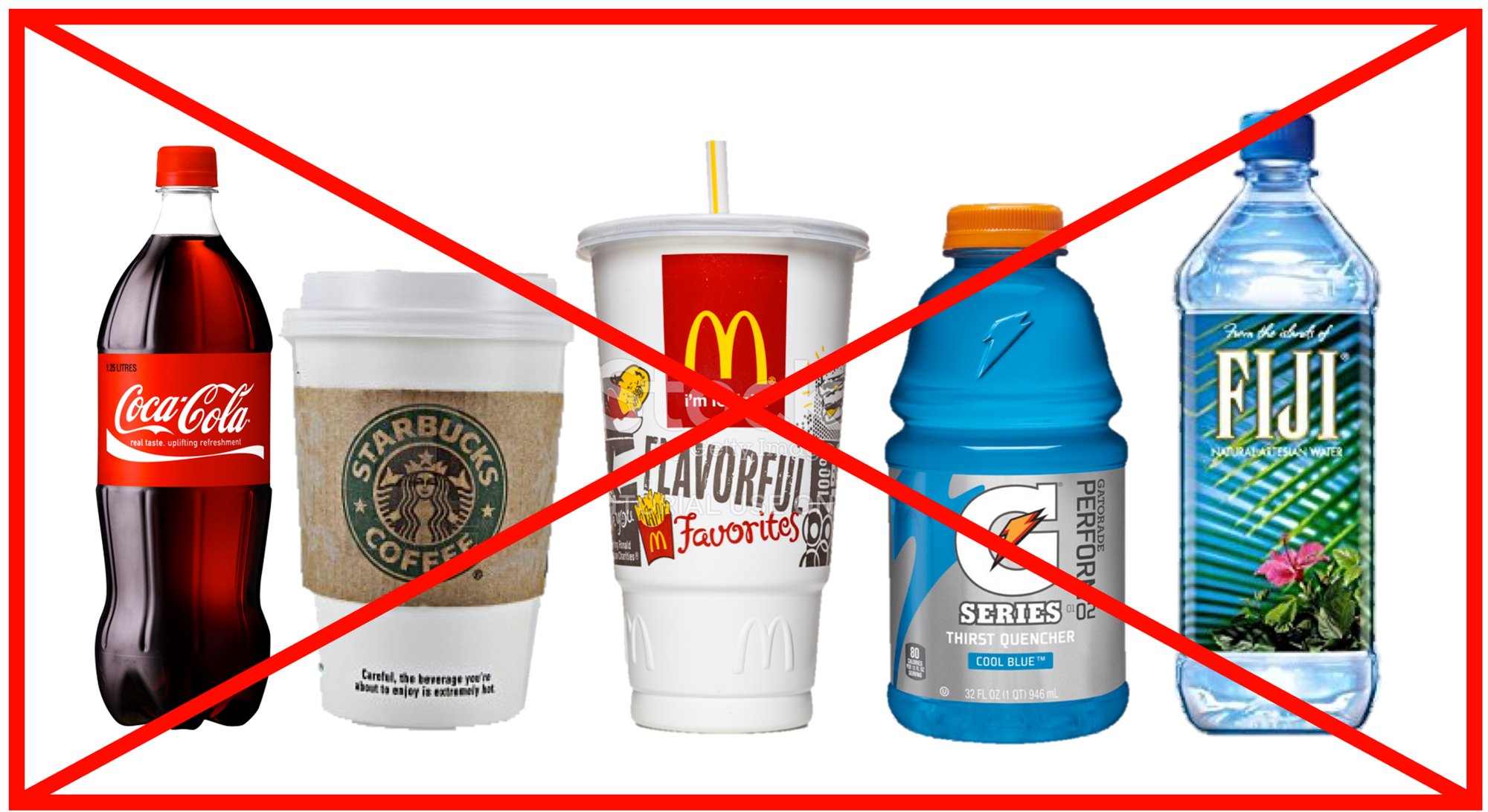 Outside cups, tumblers, or bottles are permitted but they have to be empty upon arrival. Scrap Yard Sports reserves the right to inspect all outside containers prior to entry to the facility.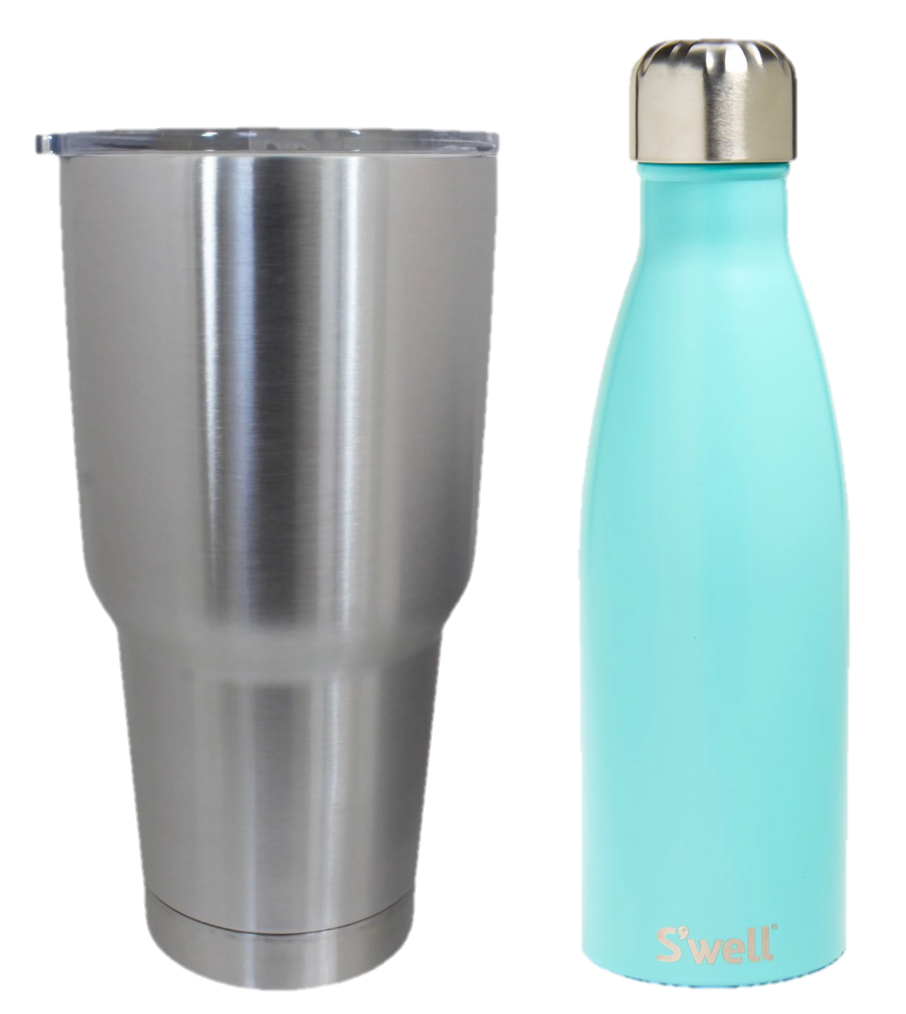 ---
GATE FEE
General Admission = $5 per Day
Children under 6 years old = FREE
Military / First Responders = FREE
Players in Uniform = FREE
Coaches (3 per Team) = FREE
*Special Events could have modified gate fees. Please see specific Event information
July 6-9, 2023
2023 Youth Baseball World Series Gate Fee - $10/person each day.
No weekend passes will be sold.
---
GATE FEE REFUND POLICY

All Gate Fees for all Events are considered a non-refundable purchase.
---
ALCOHOL POLICY

As of November 2016, Scrappy's Bits & Brews has opened on property at the Scrap Yard Sports Complex and will be selling Beer and Wine. It is prohibited to bring any outside alcohol onto the property or any containers that would lead our staff to believe that you are in the possession of alcohol. We appreciate everyone's compliance with this policy.
---
PET POLICY

We are dog lovers here Scrap Yard Sports, but they are just too messy for our facilities. We ask that you load your puppies up with plenty of love, toys, and treats and then let them stay and have a lazy day at home before you come visit us.
We do not permit or condone pet owners to leave their pets in their vehicle on property. Any pets that are found to be locked in a non-airconditioned vehicle on the premises will force our staff to call the authorities.
---
SMOKING POLICY

Smoking is not permitted on any turf surface.
Smoking is not permitted under any covered area.
Smoking is not permitted on any decking
---
LAWN CHAIRS AND TENTS POLICY

Scrap Yard Sports offers bleacher or stadium seating on all fields but welcomes all guests to bring lawn chairs, tents, bleacher seats or any other comfort items you would like. We only ask that you do not set up tents in locations that could block the view of the field for other guests. Also, no tent stakes may be driven into the turf under any circumstances.
---
PARKING LOT POLICY

Rule #1 - RV's and Campers are NOT permitted at Scrap Yard Sports due to our limited number of parking spaces and no overnight stays on property.
Rule #2 - All vehicles must be parked in designated parking spaces. These spaces can be identified by the Concrete Blocking Blocks that are spaced throughout our parking lots or by the parking spaces outlined on the ground. Any vehicles parked in unauthorized areas or not parked in an authorized spaces will be towed at the Vehicle Owner's Expense. These areas include being parked along ditches or along the turf edges.
Rule #3 - You must park within 5 feet of your designated parking block or within the lines of your designated parking spot. If too much space is left between the front of your vehicle and the parking block, then your vehicle will be left partially in the driveway and block the flow of traffic. Any vehicles that are parked more than 5 feet from the Parking Block have the potential of being towed at the Vehicle Owner's Expense.
Rule #4 - Each vehicle is authorized to park in one space only. Any vehicles that are taking up two spaces by either parking in between two Parking Blocks or parking at a slant so that other cars may not use the spaces next to your vehicle have the potential to be towed at the Vehicle Owner's Expense.
Rule #5 - Please do not wait in your vehicle on the main drive either for picking up or dropping off. We completely understand if you are loading or unloading but we cannot allow cars to sit and wait because it blocks the flow of traffic.
NO OPEN FIRES ALLOWED IN PARKING LOT. This includes but is not limited to Bar-b-que pits or any other cooking devices
---
HEATER POLICY

As beautiful as our turf playing surfaces are, they are not flame compatible. So we ask that our guests help us keep Scrap Yard Sports Fires to a minimum by not using any open flames and by paying close attention to any heaters used on our colder days.
---
SUNFLOWER SEEDS/SHELLED SNACKS

We know it's a diamond sports pastime to eat/spit sunflower seeds at the ball park, but unless you would like to join us for a seed picking party once a week, please swallow them whole or don't bring them with you.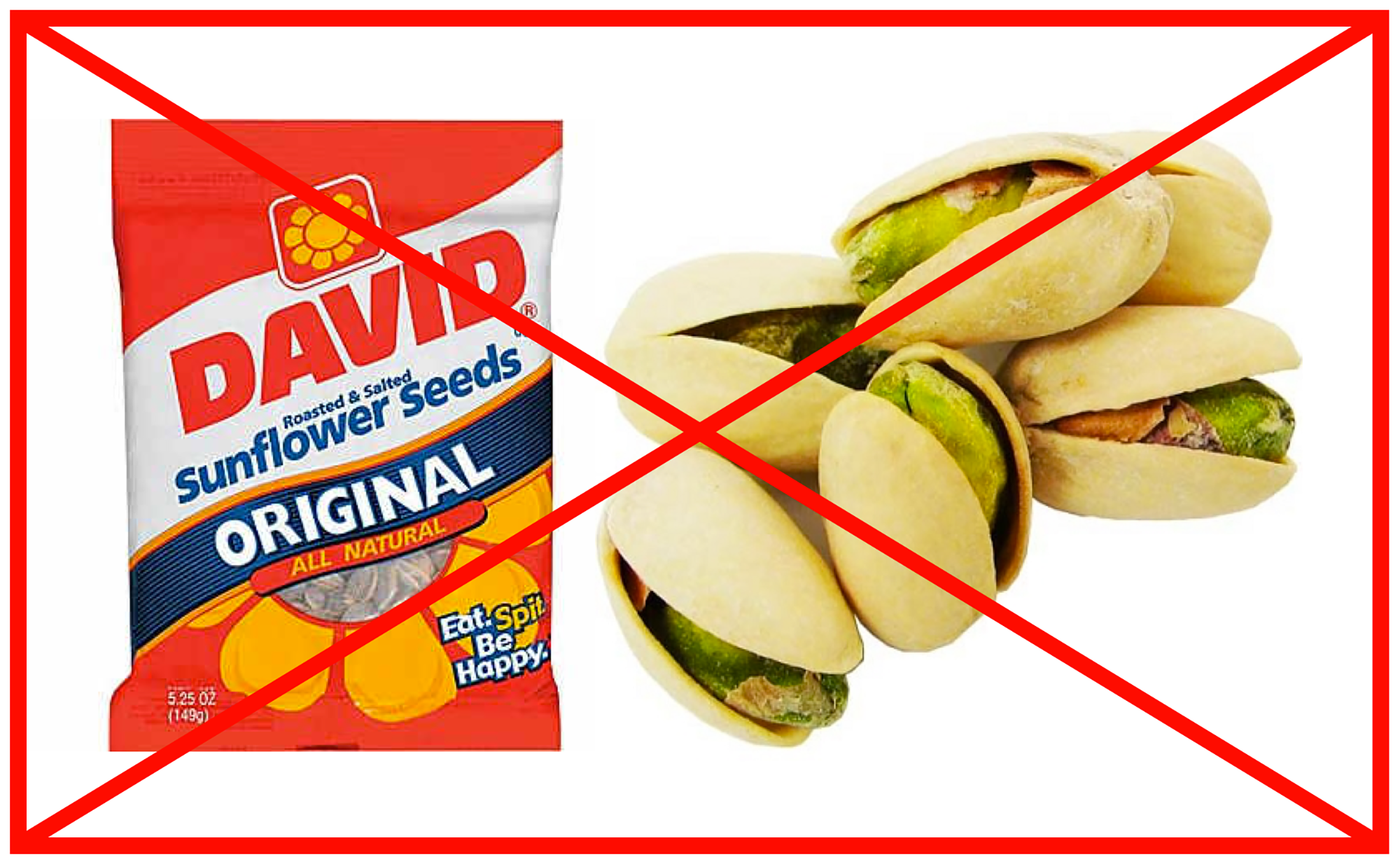 ---
METAL CLEATS/SPIKES

Metal Cleats / Spikes are NOT permitted on any turf surfaces.
Rubber cleats, turf shoes, or tennis shoes are required.
---
MUSIC

In order for us to be courteous and respectful of our neighbors, no music is allowed. Anyone found not adhereing to this policy may be asked to leave. Failure to leave premises when asked to do so, may cause the associated team to forifeit.
---
NO MOTORIZED VEHICLES OR SCOOTERS INSIDE THE GATES

For safety and to protect turf conditions, no motorized vehicles or motorized scooters are permitted inside the gates.

This includes but isn't limited to...

Dirt bikes or motorcycles
Mopeds
ATV's or 4Wheelers
Electronic Toy Cars
Scooters of any type (other than for handicap persons)
---
Scrap Yard Sports would not be as great as it is without the help of our valued guests and we thank you for helping us keep Scrap Yard Sports awesome!