Cages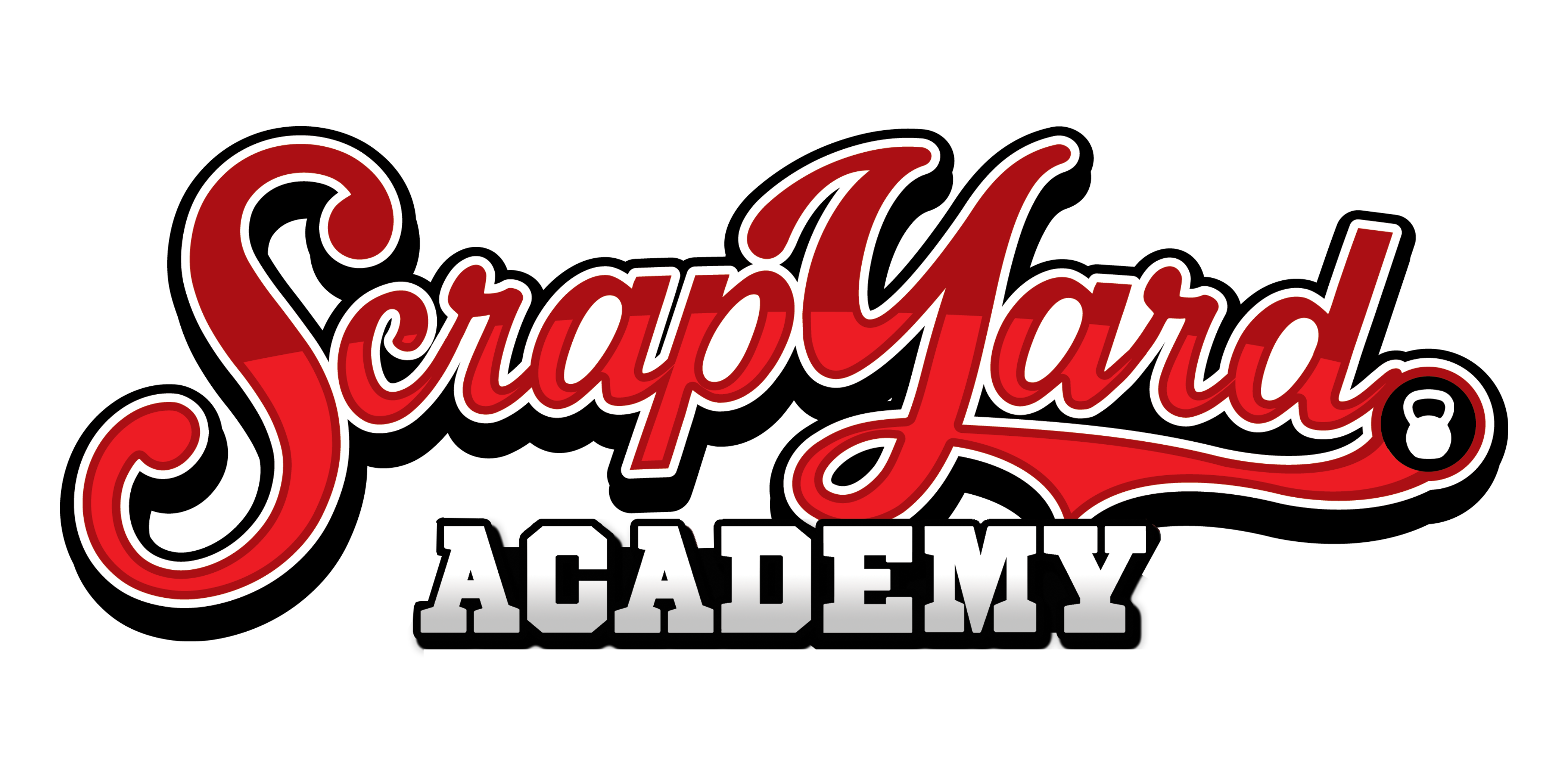 Quick Links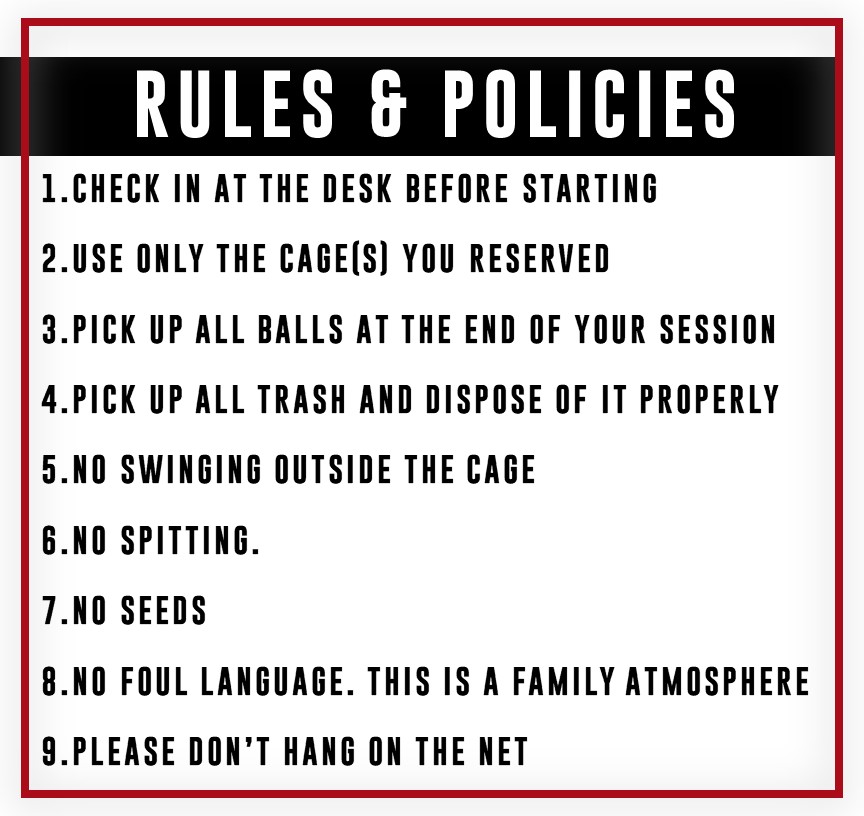 ---
Click here to purchase sessions in bulk.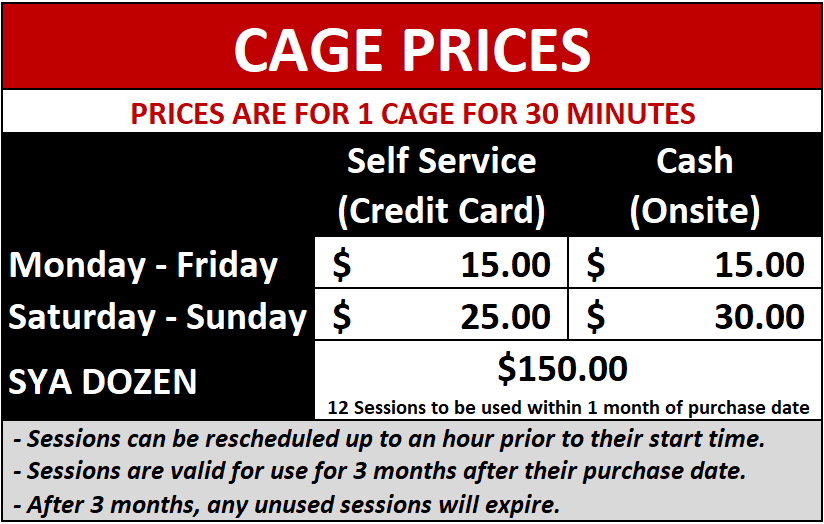 ---
If you would like to purchase a single cage session for 30 minutes, it is easiest to just proceed straight to the Self Service Site below and click on the session you'd like to be directed to payment.
If you would like to purchase 2 or more sessions, we recommend using the links below to purchase sessions in bulk. Then once the package is purchased, you will be able to proceed to the schedule page (Book Field / Cage Time) and click on the sessions you would like and be able to book straight in to them.
Packages are valid for 3 months from their purchase date.
If you have any questions, please email us at questions@scrapyardsports.com or call us at 281-719-9335.
Self Service Site that allows customers to view, reserve, and pay for any available field or cage time at the Scrap Yard Sports Facility.

Multiple Sessions - Monday-Friday (3:30pm-9:30pm)

30 Minute Cage Rental = $15.00

SYA Dozen - 12 Sess = $150 * 2 Free! *

Must be used in 1 month from purchase date or they expire.
In enrolling, participant understands that he/she attending the programs and using Scrap Yard Sports and the facilities does so at his/her own risk. Scrap Yard Sports and its affiliates, owners, employees or agents, shall not be liable for any damage whatsoever arising from any personal injury or property loss sustained by participant with his/her family in or about any programs on the premises. Participants and parents assume full responsibility for all injuries and damages which occur in or about any programs on the premises, He/She does hereby fully and forever release discharged hold harmless Scrap Yard Sports its affiliates, owners, employees or agents, all associated facilities and its owner, employees, and agents from any and all claims, demands, damages or rights of action, present or future resulting from any person's participation in any programs or use of the facility. In addition, he/she agree(s) to follow the rules of conduct and play set by Scrap Yard Sports and its Affiliates. Failure to do so may result in suspension from participation.
Consent: I the undersigned parent or guardian/participant do hereby grant authority to the staff at Scrap Yard Sports and its Affiliates to render a judgement concerning medical assistance or hospital care in the event of an accident or illness during my absence. I do hereby authorize Scrap Yard Sports and its Affiliates and its assigns to utilize any and all photographs, pictures or other likeness of me or anyone assigned guardianship to me, as they deem appropriate in its promotional materials or team films.
Refer to the Park Policies Page at http://scrapyardsports.com/park-policies/ for the complete list of park rules.
SUNFLOWER SEED POLICY
- Sunflower seeds are STRICTLY prohibited at Scrap Yard Sports in any capacity.
- Failure to abide by this policy is immediate grounds for removal without a refund.
METAL CLEATS / SPIKES POLICY
- Metal spikes are permitted on the playing surfaces at Scrap Yard Sports except for all Baseball Pitching Mounds and Pitching Circles.
- Only turf shoes or tennis shoes can be used on the turf mounds or pitching circles.
PET POLICY
- Pets are not permitted at Scrap Yard Sports
- Service animals are permitted but they must be wearing appropriate tags and/or harnesses and must be leashed at all times.